This one is written in the American Constitution, but not that old weathered document from 1787, the one that declares Christmas is a shopping holiday and not the celebration of the birth of the Jesus Christ character. Religion studies are not my strong point, but then neither is
Santa Claus
lore. Thanks to the internet, though, you can check out all of his evolution on the linkety-link back there. It's really rather fascinating stuff to poke around in. A lot of us take for granted a whole lot these days, like for instance this internet I am using right here. I believe it is proper grammatical technique to capitalize the word "internet" but I am not down with that because I don't think it's as properly proper as has been proffered by the Merriam's, Websters, and the like. But yeah, for granted, I don't know about you fools but I never really considered where in the heck Old St. Nick came from. I have my doubts as to whether he was a tubbledy man from the North Pole who dressed in red velvet with white trim. The idea of someone sitting down and concocting such a character then seems to line up pretty well with advertising. If I had to do my college thesis over, I might very well analyze the origins of Santa Claus.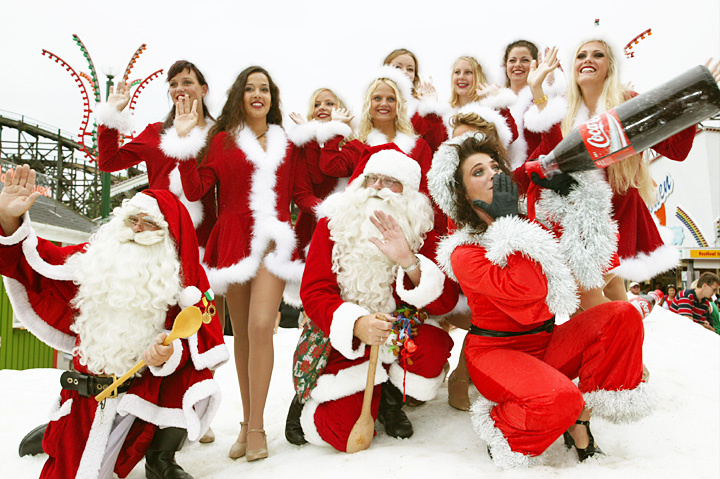 This is how I best like to picture Santa.
Of course, there is the possibility that Santa was not always as rotund as he has become. After all he is consuming, milk, eggnog, and lots and lots of cookies. If you believe that he has a fantastic metabolism even at hundreds or thousands of years old, then he may very well be lactose intolerant and horrendously bloated as a result of these alleged dairy gifts. That, and he should be a diabetic. But with my half-Jew faith and half-celebration of Christmas, I never was one of the kids headed to the department store to take a stint on Santa's lap.
This year, though, I had the pleasure, and while Christmas has helped perpetuate, if not spawn, some terribly spoiled individuals, it has also helped foster some simple joys and cheer. Kids look happy as shit to meet Santa, and let's not forget the tree. I mean that and the snow, and the way department stores decorate shit, it looks pretty. And without doing any research as to why
The Nutcracker
has become a Christmas tradition, I will say that it is one I love. I guess a good reason for it to be performed at Christmas is that the play is set during Christmas. It's really all about the score from my boy
Tchaikovsky
. It's more than just good music to play
Tetris
to.
There really is a whole hell of a lot to go over when it comes to Christmas: the love/hate relationship with the music, the showing of
Gone With the Wind
(which I have still never seen), stockings...So what I'm getting at is that this post is far from complete, and there is surely more to come in inane Christmas commentary. But should I not get to it before the holiday comes upon us, consider this the Happy Christmas post. And there I've gone and forgotten all about Chanukah, my primary holiday, which has come and gone.
Anyway, I hear next year for Chanukah they will offer a Womenorah, in addition to the traditional
Menorah
, in the name of gender equality.