Some straight up beast running took place this past weekend, a good deal of it in my "back yard" as the
Chicago Marathon
runs right past my apartment at about the seven-and-a-half mile mark. I got a couple of shots and a little video of the race leaders and all sorts of random competitors but I was fairly unprepared to do so most of the time and I've not taken the time to upload them yet anyway. It was also cold enough that my battery was falsely reading as being low on charge. In the meantime, here's a shot of race-winner and reigning Olympic champ Samuel Wanjiru.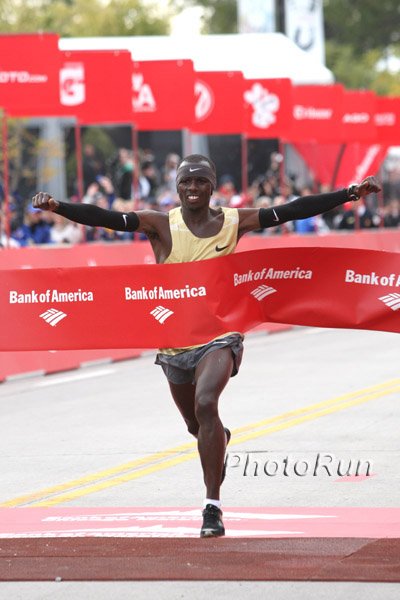 Wanjiru: Total Beast.
These elites glide along so effortlessly running 4:50 miles and faster that it's a bit surreal. I'd be pretty content if I could be running that for 5k right now. The first question anyone asks when they find out you are a runner is if you've ever run a marathon. It's always been "no" and "I don't think I ever will" as responses, but I think I might change my tune after my first viewing experience. To put it mildly, it kicked ass: great venue, supporters/spectators all over the course, and various tunes bumping at different mileage markers.
In other running news this weekend wonder
boy
man
Dathan Ritzenhein
, my high school contemporary, threw down at the World Half-Marathon Championships, finishing just a second out of second to earn the Bronze.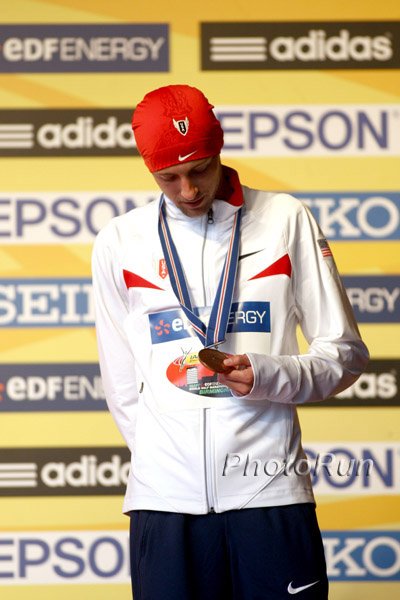 Yes, Ritz, you earned that.
Ritz was dominating the high school scene when I first got addicted to running and watching his scrawny and over-exerted frame collapse to win the Foot Locker National Championship as a junior made me a fan of his for life. I couldn't scrounge up a photo of that on short notice, but here's another shot of what Ritz looks like after inhuman efforts:
Ritz makes me want to be tough. And speaking of tough,
Man v. Food
host Adam Richman, recently attempted a challenge I've long wanted to undertake and know I have no shot at: the
fat sandwich competition
at Rutgers' own Grease Trucks. The trick is to eat five sandwiches in 45 minutes to rename one. As the Targum spoils, Adam fails at four sandwiches. All I can say is I wish I had been there. I'm not even that beast of an eater, but with a long-run, a few beers, and perhaps a currently illegal THC-containing substance, I think I might have been able to match four...I can certainly do three, and I suck. Mostly it boils down to me being jealous of Adam's job.
Finally, there are those times I wonder why I haven't explored traditional paths to gaining a job as a teacher. Well, and I know it's a bit silly sometimes to use something like this as a barrier, but when my potential peers post messages like this:
"teaching a math lesson tomorrow....i should prob care more but i just dont lol"
...well let's just say I feel less thrilled at being on an equivalent level with such an individual. You can't always let pride get in the way, but my god I sometimes fear for the education of the youth of tomorrow. Here I sit, doing little to amend that.